Impact Crusher
Dealing with the material with the side length 500mm, not more than 350Mpa anti-pressure strength, Impact Crusher can be widely used in the first and secondary crushing.
During the process of operating, the rotor in high speed will be brought along by the electric motor. The material will be stricken by the Flat Hammer to be crushed, and then be countered to the liner for the second crushing, then be discharged through the discharge opening.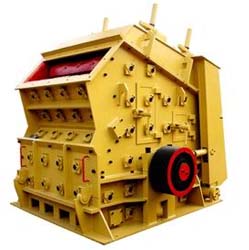 Benefits & Advantages :
simple structure, Non-key Connection, high chromium Flat Hammer, special impact plate, simplified crushing process, and high-efficiency and energy conservation, Cubic Shape for the final products. The discharge opening can be adjusted. It is widely used in water and electricity, expressway, sand and stone, crushing fields.Crusher China.
Impact Crusher Specifications:
Type
Spec.
Feeder Opening(mm)
Feeding Size (mm)
Crushing
Capacity
(t/h)
Motor
Power (KW)
Weight
(t)
PF-1010
Φ1000×1050
400×1080
350
50-80
55-75
12.6
PF-1210
Φ1250×1050
400×1080
350
70-120
110-132
14
PF-1214
Φ1250×1400
400×1430
350
80-160
132-160
18.6
PF-1315
Φ1320×1500
860×1520
350
160-260
180-260
24.2
PFV-1010
Φ1000x1050
400x1080
350
60-100
55-75
13.2
PFV-1210
Φ1250x1050
400x1080
350
70-150
110-132
15.2
PFV-1214
Φ1250x1400
400x1430
350
100-200
132-160
18.6
PFV-1315
Φ1320x1500
860x1520
350
150-300
180-220
24.5