Conveyor belt
It's widely used in mining, metallurgy industry, feeding the relax material and member goods, according to the request of transport technology. it can be used in single, multiple or combined with other equipment to form horizontal or incline transportation system to satisfy different production line arrangement needs.
Belt Conveyor Application and Features:
It features of large delivering quantity, simple structure, convenient maintenance, standard parts and so on. And it is widely used in the following industries: minerals, metallurgy, coal industry and some other fields, conveying loose materials and pieces. According to the craft requirements for delivery, you can transport with single machine or with several ones, and also make up a horizontal and inclined transportation system along with other delivering devices, in order to meet different needs.Crusher China.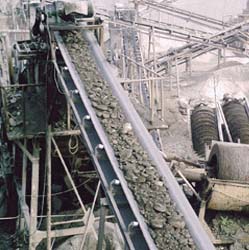 Belt Conveyor Technical Specifications:
Belt Width

Belt Length(m)

Belt Speed(m/s)

Capacity(t/h)

Power(kw)

400

≤12

12-20

20-25

0.8-2.0

40-80

1.5

2.2

3

500

≤12

12-20

20-30

0.8-2.0

78-191

3

4

5.5

650

≤12

12-20

20-30

0.8-2.0

131-323

4

5.5

7.5

800

≤6

6-15

15-25

1.0-2.0

278-546

3

5.5

7.5

1000

≤10

10-20

20-25

1.0-2.0

465-853

5.5

7.5

11

1200

≤10

10-20

20-25

1.0-2.0

655-1284

7.5

11

15